What is the Age of Consent in NC?
"Age of Consent Laws" generally refer to sexual intercourse and sex offenses in North Carolina.
Given recent landmark changes to the Juvenile Justice Act, there presently exist some troubling inconsistencies in the sex offense laws in NC and related public polices of the State of North Carolina.
In North Carolina, a 16-year-old may consent to sexual intercourse, the logic being they have reached the "age of consent" to make the adult decision to have sex.
Under the NC Criminal laws, that 16-year-old cannot be charged with certain criminal offenses because he or she is deemed, as a matter of law, a minor and therefore must be charged in Juvenile Court as a "delinquent."
It can be a complicated, if not confusing aspect of the law.
For example, "minors" may face criminal prosecution for Chapter 20 motor vehicle offenses like DWI in North Carolina, as the Juvenile Justice Act does not apply to such offenses.
As plaintiff's lawyers in Charlotte who bring actions against sexual predators for damages for unlawful sexual conduct, that disparity runs contrary to common sense.
How can a minor be too young to be prosecuted as an adult yet old enough make the adult decision to engage in sexual intercourse?
Why does "minor" mean one thing as a defendant in criminal charges and another as a victim of a sexual predator?
Rape and Sex Offenses in North Carolina
The age of consent in NC may involve the offense of statutory rape.
Indeed, N.C.G.S. § 14-27.23 of Article 7B "Rape and Other Sex Offenses," is requires the State of North Carolina to present evidence that:
The Defendant (the person accused of criminal charges in North Carolina) is at least 18 years old at the time of the offense
The Defendant engages in vaginal intercourse with the victim
The Victim has not yet reached the age of 13 years old at the time of the crime
A sex act or "sexual act" specifically is not defined as and does NOT include vaginal intercourse. Sexual acts include things like:
Oral Sex

Fellatio
Cunnilingus
Analingus

Anal Intercourse
Sexual acts require some sort of penetration, however minor or slight, of the anal opening or genital, of the victim's body.
Statutory Rape in North Carolina is categorized as a Class B1 Felony and requires a active prison term of no less than 300 months in prison.
It's important to note, the legal standards in criminal court differ from those pursuant to a lawsuit for damages related to unlawful sexual conduct.
How does the Age of Consent in NC Differ From Other States?
While it may sound young, the age of consent in North Carolina at 16, is not necessarily the lowest in the nation.
The age of consent varies from state-to-state, subject to the unique criminal laws of each state.
Some states account for sexual conduct between minors, setting forth a sliding scale between the respective ages of the Defendant and the victim, allowing for an age variance/disparity between two (2) and four (years).
Underage Dating and Age of Consent Laws
In North Carolina, it is not illegal for minors to date each other. It also is not a criminal offense to date someone under the age of 16 years old.
While upsetting to many parents, "dating" in-and-of-itself is not illegal, as long as there is no sexual acts or sexual intercourse.
That does not mean there aren't other legal protections under the law.
There are sex offenses defined under the NC Criminal Laws and civil causes of action may exist for contributing to the delinquency of minors, sex offenses, and improper supervision of minors.
Sexual intercourse (vaginal intercourse) with a minor aged 13 to 15 years old, when the Defendant is at least six (6) years older is a Class B1 Felony charge
Vaginal Intercourse when the Defendant is at least four (4) years older but less than six (6) years older than the victim is a Class C Felony criminal charge in North Carolina
Sexual intercourse when the Defendant is 18 years old or older, and the victim is under the age of 13 years old, is a Class B1 felony mandating prison of no less than 25 years in prison
Reporting Statutory Rape in North Carolina
Due to the severity of the offense and potential for long term harm and damages due to sex offenses, North Carolina anyone aware of statutory rape may report the crime.
As such, in addition to parents and legal guardians, friends, family, and anyone else aware of the rape may contact local law enforcement to report a crime.
In fact, it may be illegal NOT to report statutory rape or other sex offense for certain people in positions of trust and authority, including:
Medical Personnel

Physicians
Nurses
Doctors

Mental Health Professionals
Teachers
Day Care Operators
Parental approval does not circumvent the statutory rape laws in North Carolina.
Even if parents approve of sexual intercourse between minors or even an adult, the Age of Consent Laws supersede or otherwise control "approval" or "consent."
Statutory Rape: Age and Incapacity to Consent
Consent by a victim (or even a parent) is not a legal defense to statutory rape charges in North Carolina, even in instances with express consent.
Implied consent similarly does not serve as a valid defense for criminal charges for statutory rape in NC.
Implied consent is generally described as agreement to or consenting to sexual acts based on the nature and circumstances of the conduct.
Silence and inaction of a victim do not necessarily serve as legal defenses, even when the Age of Consent Laws are inapplicable due to the age of victim and/or the defendant.
A minor victim cannot consent to sexual intercourse, either expressly or impliedly.
Even if a minor pursues, encourages, and voluntarily engages in sexual contact and sexual intercourse, the Defendant cannot escape legal culpability.
Similarly, mistake of age, a good faith belief the victim is a certain age, and even if the victim lies about her age, are not defenses.
That is true both for civil lawsuits and criminal charges in North Carolina.
As such, statutory rape in North Carolina is a "strict liability" offense.
North Carolina Statutory Rape and Sex Offense Laws
Statutory Rape in North Carolina and the age of consent do not necessarily preclude criminal prosecution and civil lawsuits for sex offenses.
Taking indecent liberties with a child - Defendant is 16 years of age or older engaging in sexual activity with a minor, when the defendant is at least five years older than the victim.
N.C.G.S. § 14-27.28 - Statutory sexual offense with a child by an adult – Defendant is 18 years old or older, engaging in sexual act with a minor victim (child) under the age of 13 years old.
N.C.G.S. § 14-27.31 - Sexual activity by a substitute parent or custodian – Defendant engaging in a sexual act OR vaginal intercourse with a minor victim who resides in the home.
If the Defendant who has custody of the victim, irrespective of age, or the Defendant is an employee or agency of institution or person, public, private, governmental, or charitable, and engages in a sexual act or vaginal intercourse, the NC Criminal Laws categorize the offense as a Class E Felony.
Consent by the victim is not a legal defense to either criminal charges or civil lawsuits for indecent liberties charges in North Carolina.
Related Legal Issues and Topics of Interest Our Charlotte Law Firm Files Lawsuits for Sex Offenses
Our team of Charlotte plaintiff lawyers helps victims of sex crimes.
To be clear, we file civil lawsuits against churches, schools, and people who sexually abuse children, people with disabilities, and even adult victims of rape in North Carolina.
Our law firm also helps victims file Restraining Orders and Protective Orders against sexual predators including:
50B – DVPO Domestic Violence Protective Orders
50C – Restraining Orders
If you are aware of illegal sexual conduct by a teacher, pastor, or priest, call our law firm now.
We are willing to serve as a resource for information and, when able, point you in the right direction regarding contacting law enforcement officials to report a crime.
Bringing a civil cause of action and filing a lawsuit for sex offenses in NC is separate and apart from criminal charges.
The Mecklenburg County District Attorney's Office, Charlotte-Mecklenburg Police Department (CMPD), and other law enforcement agencies throughout North Carolina, prosecute criminal charges involving rape, statutory rape, and criminal sex offenses.
Our law firm does not do that. We are not prosecutors in criminal court.
We will help the State and detectives in criminal prosecution by providing information, when legally appropriate and with the consent of clients, our focus is on recovering damages for illegal sexual conduct.
We also will help guide victims of sex crimes in North Carolina, making sure you understand how the legal system works and explaining how criminal charges are prosecuted.
We help families recover damages for sex offenses.
That may involve money damages for things like rape counseling, psychological and psychiatric counseling, medical care, treatment for sexually transmitted diseases, and punitive damages when authorized under the North Carolina tort laws.
We help people throughout North Carolina with legal claims against churches, schools, institutions, and individual civil defendants for failing to property train, supervise, and vet their employees or agents.
While based in Charlotte, NC, our law firm may be able to provide legal representation for lawsuits involving sex offenses in places other than Mecklenburg County.
We are authorized to practice law in every State of North Carolina judicial district.
We do not charge legal fees for consultations.
We also keep all the information shared with our plaintiff's lawyers (and legal support staff) strictly confidential.
We understand the sensitivity of such matters and work hard to always provide compassionate legal advice.
Call the Powers Law Firm at 704-342-4357 Today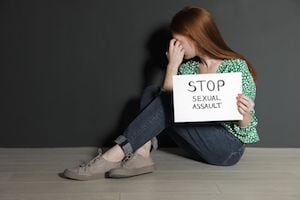 Our Charlotte attorneys and staff are committed to ensuring you receive the appropriate level of care, dignity, and respect your case deserves.
If you believe you or a loved one has a civil legal claim for damages, you may email Bill Powers directly at: Bill@CarolinaAttorneys.com