Golf Cart Accidents on Bald Head Island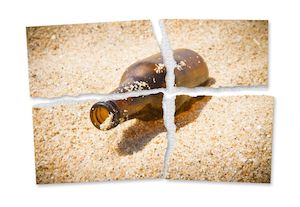 Residents of B.H.I. and long-time owners respect both the beauty and the dangers associated with "On Island" life.
The undeveloped, secluded nature of the Island makes Bald Head unique. That can also create problems.
Golf carts may seem to the uninitiated to be a harmless, quirky if not just downright fun aspect of daily life on the Island.
Unfortunately, visitors frequently fail to understand how easy it is to get seriously injured or killed in golf cart accidents on Bald Head Island.
Even experienced drivers of ordinary vehicles don't realize how easy it is to flip a golf cart or throw passengers off.
Many have very little experience driving golf carts. They are unfamiliar with golf carts as the primary source of transportation.
"Driving experience" often is limited to an occasional round of golf on wide-open courses, no "rules of the road," and soft turf as a cushion.
That's one reason tourists seem to perpetually let batteries die and can be seen pushing carts or leaving them on the side of the road.
Adding to the problem drunk driving, as is the case on the mainland, is also a concern on Bald Head.
As a vacation hotspot, drinking and specifically excessive drinking is common.
For the record, it's just as illegal and just as dangerous on a golf cart.
Golf Carts are Not Cars. Golf Carts are Not Go Carts
Like the mainland, people are legally responsible for their negligence and the harm they cause you.
Island getaways may cause lack of situational awareness and occasional bad choices, resulting in "accidents."
People drink and drive, they let underage kids drive without a license, and generally speaking, they do not respect or appreciate the dangers golf carts.
A golf cart is in fact a "vehicle" under both the NC accident laws and NC criminal laws.
There are a lot of reasons for "accidents" on Bald Head Island:
Fast golf carts that easily exceed the posted speed limit (18 m.p.h.)
Unfamiliarity with the "Wynds" and lack of roadway markings
Narrow, winding roadways with numerous blind spots, curves, turns, hills, and obstructing trees and vegetation
Inability of rear-facing passengers to anticipate sharp turns and changing speeds, causing ejectment accidents
Substantial number of walkers and bicyclists sharing the roadway, many of whom are small children and/or inexperienced, out-of-practice bicyclists
Texting drivers, inattentive driving, and lost drivers
Disproportionately large number of illegal, unlicensed drivers, and the associated lack of driving experience
Higher than normal number of "drunk drivers" or "buzzed driving"
Overall lack of driving experience relative to golf carts
High center of gravity of golf carts and instability, resulting in "tip-overs," and ejected passengers
Lack of visibility at night due to oncoming carts and vehicles, scratched windshields, and poor lighting
Increased number of electric cars instead of golf carts
Lack and/or non-use of seat belts, child safety seats, turn signals, and hand signals
Hard to see brake lights and weak "headlights" and the failure to turn on lights
Stopped carts and people "pushing carts" with no lights due to dead batteries
Improperly maintained, unsafe golf carts (bad brakes, bald tires, inoperable headlights and brake lights, scratched windshields)
Substantial number of commercial "I.C.E." (internal combustion engine) work trucks, delivery trucks, heavy construction equipment, front-end loaders, service vehicles, and golf course vehicles sharing the narrow roadways and speeding
Crossing Wildlife
It wasn't an "Accident"
Wrecks in vehicles, whether in a car on I-74 from Charlotte or Wilmington, or a golf cart while on Edward Teach, aren't really an "accident."
While there may not be what lawyers call the mens rea or "evil mind" to purposely hurt or kill someone, wrecks are not accidents.
A choice was made to either speed or not keep a proper lookout or stopping distance or to drink too much and drive.
There's really no such thing as an "accident."
Breaking the law and failing to follow the Rules of the Road is not accidental.
Calling a wreck an accident only adds insult to literal injury.
It is the continued failure to act responsibly or consider the rights, safety, and consequences to others.
When driving any type of vehicle, one must exercise due caution and care.
The law requires we all be reasonably safe and prudent, taking heed of the existing conditions and circumstances.
The failure to do so, by its very definition, is negligence in North Carolina.
Exceptionally dangerous and reckless driving may also be subject to punitive damages and criminal prosecution.
As such, if someone recklessly drives a golf cart, loses control and crashes into you, they are legally responsible for your injuries.
In no way is negligent driving or drunk driving an "accident."
What Laws Apply to Golf Carts?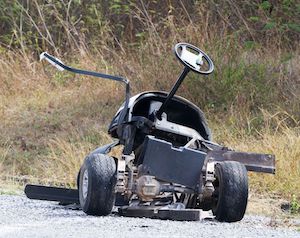 While it may seem at times like Shangri-La, there are laws on Bald Head Island.
They include the NC criminal laws, NC accident and injury laws, and Town of Bald Head Island ordinances.
Here's what the Town of Bald Head says on its website about golf carts:
"Think of the same laws when you drive your car on the mainland. Violation of laws or ordinances will result law enforcement action, up to and including going to jail."
Golf carts are required to be covered by insurance and registered with the Town.
Accidents may be covered under a household policy, an umbrella policy, or under a separate policy for golf cart(s).
One must possess a valid driver's license to operate a golf cart on Bald Head Island
Drivers with a learner's permit must be accompanied by a licensed driver
Alcoholic beverages and their containers are prohibited on golf carts
The Speed Limit on Bald Head Island is 18 m.p.h.
The NC DWI Laws apply to golf carts, scooters, electric and I.C.E. vehicles on BHI
Law Enforcement have radar guns and are authorized to issue Speeding Tickets and other Traffic Tickets on Bald Head Island
Law Enforcement Officers on Bald Head Island carry guns, have a badge, and powers of arrest
Lawyers Who Handle Accident Cases on Bald Head Island
Attorney Bill Powers is an accomplished courtroom lawyer and legal advocate who helps people hurt in accidents due to the negligence of others.
He also is a long-time "owner" on Bald Head Island.
"I understand Bald Head and how 'accidents' happen On Island. If you were hurt by a drunk driver or someone who was negligent, please call or email me."

- Bill Powers, NC Accident Lawyer