Bald Head Island Accident Lawyer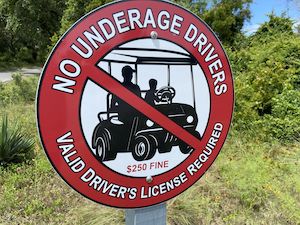 Why are there so many serious "accidents," resulting in trips to the Cape Fear Regional Hospital, road rash, broken bones, and ruined vacations on Bald Head Island?
BHI is truly unique. It's a refuge and place of respite.
It's avoided traditional North Carolina development, discount beach stores, and high-rise rental towers.
Other than commercial vehicles, there aren't cars "On Island."
The primary way of getting around is by golf cart.
The roads aren't marked.
There aren't many street signs.
Getting lost on twisting, hidden "Wynds" is part of the charm.
People walk and run Bald Head Island to listen to the cicadas and Painted Buntings as much as get some exercise in.
Parents let down their guards, teaching their kids how to ride a bike without training wheels for the first time.
While visitors are attracted to such an island "get away," they all too often bring mainland problems with them to Bald Head.
In some instances, things are somewhat worse due to the very nature of an island that values "Turtle Time" and "5-O'Clock Somewhere."
For such a small island, Bald Head has a surprising number of serious "accidents."
During the high season, it seems each week full-time residents and long-time owners lament the most recent serious wreck on B.H.I.
Drunk Driving on Bald Head Island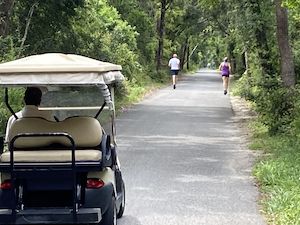 No small part of the issue, perhaps the single-most underreported or unreported factor, involves the consumption of alcohol and drunk driving accidents.
An immutable fact of life is that vacationers drink more than they normally would at home.
They drink too much and think nothing of jumping on a golf cart.
Many exclaim, often while being handcuffed, "I didn't know you could get arrested for DUI on a golf cart!"
To be clear, you can get arrested for DWI charges on Bald Head Island.
Punitive damages are authorized and not subject to "caps" under the NC liability statutes.
The same NC DWI Laws apply to golf carts as every other vehicle on the mainland.
An .08 BAC is still the law.
The ferry trip to the mainland is long and embarrassing, as the "breathalyzer" is across the river.
NCDMV will revoke your driver's license if you blow .08 or refuse to take a breath test.
"For whatever reason, people get off the ferry and seem to think the relaxed setting On Island applies also to criminal and DWI laws."

- Bill Powers, Attorney at Law
Part of the problem is the decentralized nature of Bald Head.
It is literally located in a place where you take a ferry to visit.
Other than special-permit vehicles that are transported by barge, there are not cars on the island.
And with that, it's reasonable to infer, at least on a subconscious level, the "normal rules don't apply."
Central in the failure to respect golf carts as a potential danger is an unwillingness to accept golf carts are indeed "vehicles" under the law.
The golf carts on Bald Head Island are not what you may rent on a Golf Course to play a round.
They're bigger. The vast majority are 4-seaters instead of 2-seaters with a bag holder on the back. There are a fair number of 6 and 8-seaters.
They're faster. Many if not most easily exceed the 18 m.p.h. speed limit on the Island.
They have rear-facing seats. The most common golf cart accident on Bald Head Island involves injuries to passengers due to ejectments.
They carry substantially heavier loads with passengers with no modifications to the frame, body, steering, or shock-absorbing systems.
They tend to be over-loaded with both passengers and gear.
Many are "jacked up," substantially increasing the incidences of "tip-overs" with a high center of gravity, sharp turning radius, and narrow wheel-base.
They're not as well maintained. Carts commonly have bald tires with cord showing. Even if working, headlights are often weak.
They share the road with bicycles, walkers/runners, small children, and large traditional vehicles such as work trucks, box trucks, occasional 18-wheelers, golf course equipment, and emergency vehicles.
Contrary to the law, small children are often seen behind the wheel.
In violation of the open container laws, both drivers and passengers often have alcohol in hand and/or in their system while on golf carts.
Lawyers Who Handle Accident Cases on Bald Head Island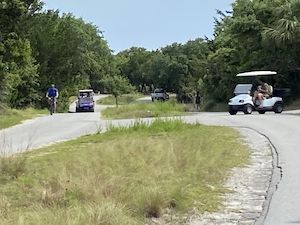 There are no law offices on Bald Head Island.
For that matter, there also isn't a bank, a doctor's office, an ABC store, or any chain restaurant.
But there are doctors and lawyers who live on the Island, who are long-time owners, and who regularly help people with things that take place on Bald Head Island.
Bill Powers is an accomplished courtroom lawyer.
He's the author of the NC DWI Quick Reference guide and understands the unique nature of impaired driving and accidents in North Carolina.
He applies that substantial knowledge-base, helping people with serious accident cases, wrongful death claims, golf cart, bicycle accidents, and pedestrian injuries.
Bill Powers has also owned a place on B.H.I. for 20+ years.
"I know and love Bald Head Island. I have an institutional memory, understanding how and why things happen. I want to help keep the island safe."

- Bill Powers, NC Accident Lawyer
If you or a loved one has been injured due to a drunk driving "accident," the Powers Law Firm PA may be able to help.
It's important to note that passengers also may have legal grounds for a recovery.
That's true even if the driver is a friend or family member.
Their insurance or that of the rental property on Bald Head may cover your injuries under a premises liability provision or umbrella policy.
Your auto insurance policy may also provide a source for insurance coverage.
If you have questions or need legal help with an accident, please call Bill Powers or email him: Bill@CarolinaAttorneys.com
TOLL FREE: 877-462-3841